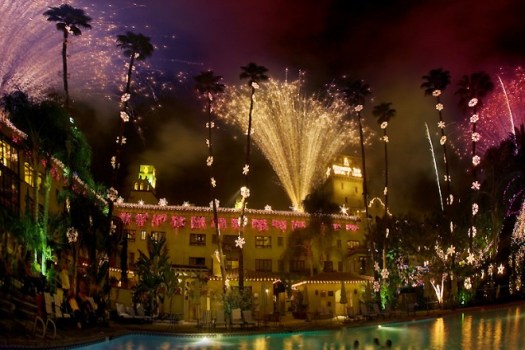 Mission Inn
The Mission Inn in Riverside celebrates its 2011 Festival of Lights on Friday, Nov. 25.
BIG PROPS: A lot of people tend to gravitate toward hotels around the holidays. Maybe Aunt Myrtle -- okay, maybe no one has an Aunt Myrtle these days, but we wish we did -- and if you do, you're lucky -- doesn't have the extra couch space for you, or maybe you're opting not to stay in house that's teeming with 27 different far-flung relatives. So you make for an inn. Is that inn looking festive and seasonal? Have the people who run it tried to honor the fact that a lot of their guests are staying due to the holidays? Sometimes yes, sometimes no. Then there's the Mission Inn in Riverside, which falls so hard on the "yes" side of things that a least a dozen other hotels could borrow some of its decor and cheer and the Mission Inn would still be left with a ton of twinkle. That's because, each and every year, the turret-y, castle-like landmark hangs 3.5 million lights.
WHAT MORE DO WE NEED TO SAY? That number sort of speaks for itself: 3.5 million. That's no mere string or two. The hotel also erects a rather regal tree in the lobby and rounds up other touches like merry room packages. In short? It's holiday central. And definitely a sight to behold, even if you don't stay the night. The switch'll flip on Friday, Nov. 25 at sundown. But the lights'll be lit through the holidays, if you're busy with family and wrapping leftovers and such.