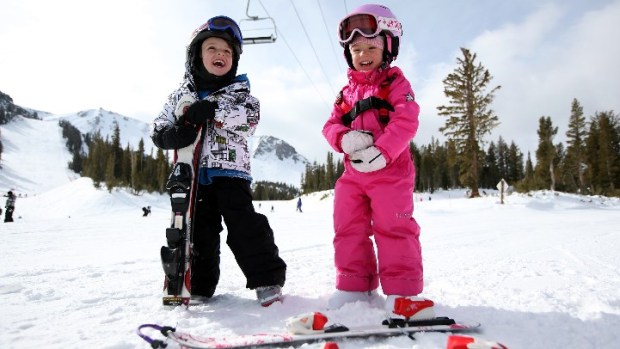 Mammoth
The Parent Tag Team Ticket at Mammoth, which allows both parents to get some ski time in, has proven popular, says the resort.
FAMILY FRIENDLY: The trend toward having one parent participate in something while the other parent stays with a young child is growing at various attractions and resorts. And yay to that we (and many others, surely) say. Why the tag team concept wasn't more widely instituted at other venues decades ago we can't be sure, but we can be glad that we live in a day where parents can head to the start of a line as a single rider, say, on a roller coaster, or they can share a ticket on the slopes. One goes up to do some serious schussing, one stays with the tot down at the bottom of the hill. Mammoth Mountain recently introduced its Parent Tag Team Ticket, and a resort rep said it has been very popular. The deal? Two parents share a single $99 lift ticket; it is good for day. If both parents had to buy a ticket singly it would be $89. So, a solid deal? Very.
ALSO AT MAMMOTH: Some snow has fallen -- nine inches, it says, on the Mammoth main page -- and spring chills may yet save some of the unseasonable warmth of winter. Oh, and if you don't need a Parent Tag Team Ticket -- perhaps your little one is big enough to ski with you -- there are other good family deals. Check 'em out before summer noses its way in, as it will soon do.