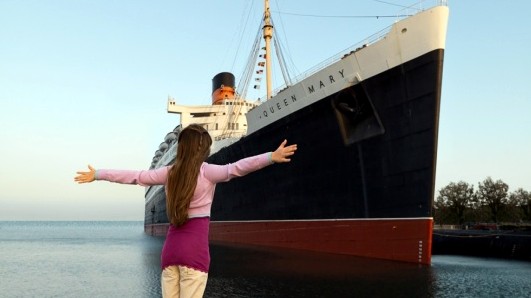 Queen Mary
The Queen Mary turns 75 with fireworks and more festoonry on Friday, May 27.
HISTORIC SOIREE: It's absolutely true that people rarely don fedoras and silk gloves and board grand ships for multi-week voyages, at least nowadays. But modern nostalgists do miss that halcyon period, or at least the most elegant, oft-remembered elements (tea service, monogrammed luggage, grand balls at sea). Of course, the Queen Mary is still one of the great ships, and one of the great Deco landmarks, not just of our state but the world. And the legendary Long Beach ship is about to hit a major milestone.
HAPPY 75 YEARS: The Scotland-built beauty first sailed in 1936, and a party will celebrate that voyage on Friday, May 27. Gussied-up party goers will dine on dishes that appeared on that first menu and bubbly will be on the pour. There will be a ceremony to mark the ship's 75th anniversary and fireworks as well. Oh, and ghost hunters should know that the famously phantomy vessel will introduce a new Paranormal Tour that night. If you're especially tempted by ceremony and spirit sightings, there's a Maiden Voyage package to look into.