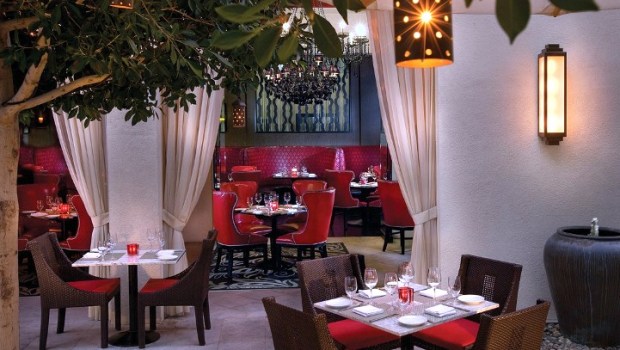 Riviera Palm Springs
Circa 59 at the Riviera Palm Springs is cooking up a very 1959-y menu during February 2012.
TOP TREND: We're not sure if this is truly a trend, what we're about to mention, but we've seen quite a few examples of it lately, so we'll call it a thing and be done with it. And that thing is? Restaurants revisiting a past menu, if not ingredient-for-ingredient then the general spirit of the era in which the menu was created. The Queen Mary in Long Beach did it last May when it celebrated its 75th anniversary; the buffet tables were loaded with 1930s-era goodies like mint jelly and gelatins. The Two Hot Tamales are doing it, too, at their Feb. 29 dinner at Border Grill in downtown LA (Susan Feninger and Mary Sue Milliken will be cook in honor of CITY, their late '80s-early '90s restaurant). Now the swanky Riviera Palm Springs is walking that tasty road at its own Circa 59.
THE MENU: The restaurant is offering a special prix fixe 1959 menu for the entire month of February. Cost? Fifty nine dollars, of course. We love the touches like Neopolitan ice cream -- so late '50s -- and lemon chiffon cake. Oh! And green bean casserole. So authentic. And deviled eggs, my goodness; that's like a time machine in every creamy yolk bite. Cheers, Riviera Palm Springs, and to every other eatery that wants to invoke a past time or menu: Do it. Nostalgia on a plate is a powerful thing, indeed.