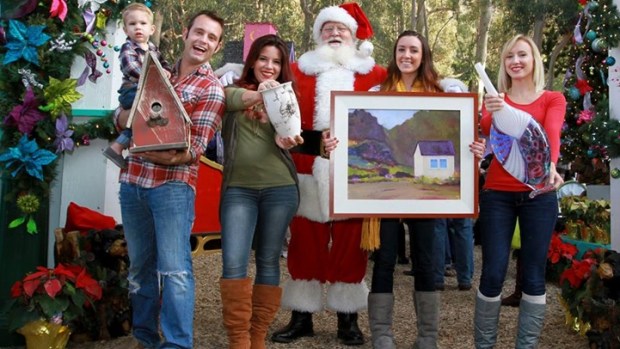 Sawdust Winter Fantasy
The artsy sparkle of the summertime Sawdust shimmers again come Christmas, or rather for four weekends November and December weekends. Want unique gifts? Make for Laguna Beach.
LIKE SUMMER, BUT WITH SANTA: Most if not all of us have had a relative or two visit at some point over the course of our lives. And while we enjoy it -- despite that one time our cousin attempt to rearrange the towel shelves -- it can be a little bit stressful to get the day-to-day stuff done when visitors are about the house. This is doubly true at the holidays, when we all seem to have double the errands to run and tasks to complete. And what to do if you have aunt or a loved one staying when you have to get a whole mess of shopping done? Yep, they'll probably ride with you to the mall without complaint, but you can put a local spin on your shopping needs as a treat for your out-of-towner (and you). The Sawdust Art Festival is one of Laguna Beach's summertime jewels, a charming clutch of shops and artisans selling paintings and hats and sculptures and more. Come Christmas, though, the Sawdust returns, for four weekends, and it brings some festive flair. It is, in fact, called the Sawdust Winter Fantasy, and it kicks off its four-weekend fa-la-la on Saturday, Nov. 23.
THE SAME SAWDUST GOODNESS... can be found, like unique earrings and frilly scarves and glass mushrooms and such, but there shall be Santa. Oh yes, and a petting zoo, too, and a load of yuletide-type bows and baubles about. It's hard to imagine that sawdusty nook becoming more charming, because it is already pretty dang charming come summer, but the Winter Fantasy brings. But not forever; the final day is Sunday, Dec. 15. Best tell the visiting relatives that the shopping errand is going to be a little quainter this year, and far more Laguna Beachy.