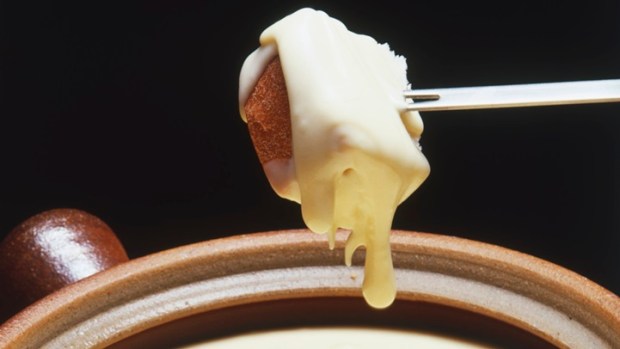 Getty Images/Dorling Kindersley
Haute cheeses, made with local love, get the savory spotlight at California's Artisan Cheese Festival. Dip into it in Petaluma from March 21-23.
CONSIDER THE CHEESE: A block of cheddar or gouda or Monterey jack is perfect unto itself. Sliced or shredded, with nothing added, a well-made dairy dream can carry its own weight, even if it is simply melted over a semi-stale piece of bread or eaten straight from the fridge. But consider the heights that cheese ascends to when herbs are added, or swirls of other cheese, like gorgonzola. It's a marvelous mash-up, cheese drawer-style, and what was once cheddar is now something completely different, courtesy of a rosemary or thyme or blue cheese cameo. There aren't too many perfect foods that can enfold another strong flavor and not lose their way, but cheese is at the head of that particular pack. And as far as the pack of straight-up cheese festivals go? Well, blocks of creamy goodness make strong showings at various culinary gatherings around the state, but among the parties that are solely about Swiss or Asiago, one truly stands tall. It's California's Artisan Cheese Festival -- yep, a whole three-day weekend devoted to the pleasures of the sliceable wheel and dippable bowl -- and tickets are now on sale for the March hoedown.
ON THE PLATE: Well, plenty of cheese tasting, of course, and the meeting of masters who spend their days working with curds and cloths and summoning poetry from whey and milk and old-fashioned elbow grease. Cowgirl Creamery and Bleating Heart Cheese Company and Tomales Farmstead Creamery will all be at the Petaluma confab, a gathering that also focuses on farm tours and behind-the-scenes-y treats. Pairing demos are on the board, yep, and a bevy of tastings (you can probably guess that local wines'll be in the house, too, given that cheese and vino have a wayback relationship). Seminars and such are priced separately, and the "sold out" signs are popping up, so best look over the schedule and pick your favorites. Think of it as looking at a large cheese plate and slicing of a little bit of your favorite bites. Easy? Done. California's Artisan Cheese Festival gets flavorful from March 21 through 23, 2014.