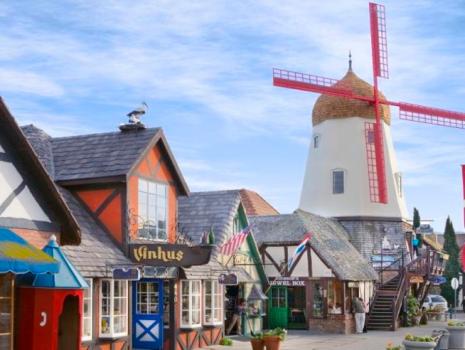 Solvang
Solvang's suppingest weekend of the year is due in the middle of March. It's Taste of Solvang, and tickets are now on sale.
DESTINATION DINING: Photographs in magazines very often portray destination dining as something done on a yacht, at sunset, with bottles of bubbly and plates of lobster dotting the scene. But going somewhere else to eat something different doesn't always have to be so elaborate, expensive, nor quite so staged. Oh, goodness, we're not knocking yachts at sunset -- the mere thought definitely appeals -- but knowing that we can go somewhere, semi-quickly, and eat foods known around the place, for not too much cash, enthralls us equally. And if those foods lean heavily into the dessert and wine categories? Well, that's it. We're there. And "there" quite often is, when it comes to those two categories, Solvang. The Dutch-sweet town just happens to be nestled in the middle of Santa Ynez Wine Country, so there's the reason for all of the sublime vino it serves, and desserts? The town honors its Danish heritage through the serving of aebleskivers and cakes and crusty little tidbits served with heaps of jam. Heck yes.
AND THE TIME AND PLACE... when all of Solvang's supping charms are most on display? It's during Taste of Solvang each March. A Chef Walk, a Beer & Walk Walk, and a Grand Tasting are on the weekend roster, and Sweets & Swing? Yeah, Solvang throws a whole event each year devoted to its sugary side. The dates are March 12-16 -- this is indeed a serious event that takes up a span of days and not merely an afternoon -- and tickets to the various to-dos may be purchased a la carte. Oh, and those tickets? Why, aebleskiver aficionados, they happen to be on sale now.