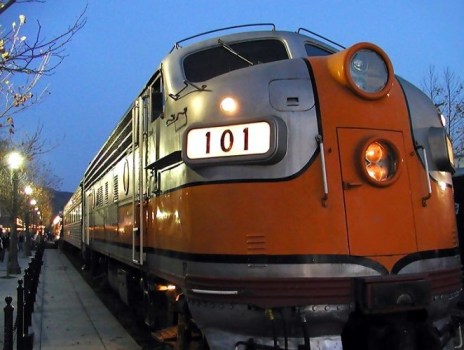 Fillmore and Western
There's a special Fillmore & Western train planned for Father's Day 2011.
ON TRACK: The holiday lunch trains at the Fillmore & Western are a staple of SoCal sweetness. But more than that, they incorporate a meal into an activity, which few things do (and should). And most of us want a nice holiday meal out plus something to do, and we'll wager that we'd like both at the same, please and thank you. The Fillmore-based train does both well with its Father's Day BBQ, which is on in 2011 on Sunday, June 19.
THE DETAILS: There are two rides -- 11 a.m and 3 p.m. -- and we'd definitely nab those tickets ahead of time. Barbecue tri-tip is on the menu, as are various fixins (yeah, beans qualify as fixins). Grown-ups can board for $47, and kid tickets are less (and tots under two who can ride on a lap get in for free). Have you done a Fillmore ride? What's your favorite part? We like the citrus groves, and the lulling motion of the train. Throw in barbecue and you have a perfect trifecta.