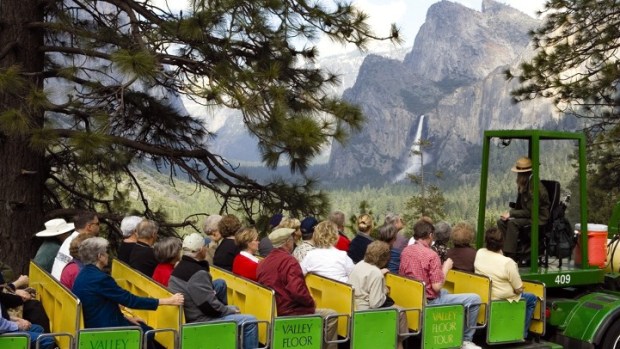 DNC Parks & Resorts at Yosemite
The Immersion Excursion Tours at Yosemite are running Monday through Friday through early September.
TRAM TIME: Have you taken the Valley Floor Tour? If you've been to Yosemite we'll say the chances are good. It's the classic green motorized snake-y mobile that wends its way along the Merced and beneath the cliffs. (Yeah, we know, "snake-y" is a bit fanciful, but tell us you haven't made a similar comparison.) And what goes down during the tour? A ranger talks about the rocky landmarks and manmade structures and the climbers of El Capitan. All very informative. But more specialized tours are available -- call them Immersion Excursion Speciality Tours -- through Labor Day. Meaning that if you're looking for more than a general overview of the valley, you'll want to hop on one of these babies.
THE FIVE: Secret Seekers is on Monday (yep, it is what it sounds like; Yosemite's less talked-about bits will be discussed); Rock Stars is on Tuesday (hellooooo, El Cap); Wednesday is a kid-oriented day; Thursdays go avian; and Friday puts the emphasis on H2O. Bet some park buffs'll get in all five before early September, but even if you just sign up for one you'll be going deeper than most visitors to Yosemite ever go. So a tip of the ranger cap to that (not that we own a ranger cap, but boy howdy, do we ever covet 'em; we'd wear 'em about town and soak up the compliments, for sure).