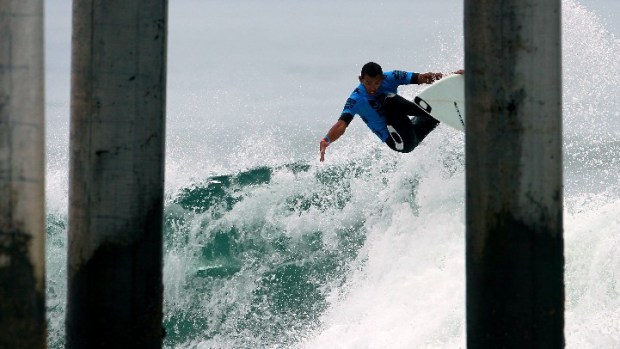 Getty Images
Jadson Andre rides a wave at the 2010 U.S. Open of Surfing. The 2012 action starts up again in Huntington Beach on Saturday, July 28.
THIS IS IT: Sometimes, when a surf party is depicted on TV or in a film, it doesn't quite match the all-out sandy sybaritic surf party in your imagination. That party has some of the top surfers in the world, and some of the best bands, and it last beyond a day, and a whole bunch of people show up in a city that is synonymous with the sport. But maybe what is in your mind isn't just a salt-water-flavored daydream but a real thing that happens every late July-early August. And that real thing is called the U.S. Open of Surfing, and Nike is the host, and basically a whole caboodle of superstars from the world of surf-o-sity show up at Surf City, USA -- that would be Huntington Beach, natch -- to ply their board-based trade. It really happens every year, and it is set to happen again, starting on Saturday, July 28 and rolling right through Sunday, Aug. 5.
ON THE WAVES: The fest confirms that they have "30 of the Top 32 surfers in the world" lined up to compete. The bands are big, too: Grouplove, TV on the Radio, and Best Coast (which is doing its best to play all along the coast this summer; they're up at the Santa Monica Pier, for free, on Sept. 6). And beyond the big surfing names and big bands? Fourteen sandy acres of extras, filled with "interactive games" and "beachside attractions." It truly is a surf party, of out-sized proportions, in one of the surfiest spots on the planet. Who says things never are as grand in real life as in films or daydreams?