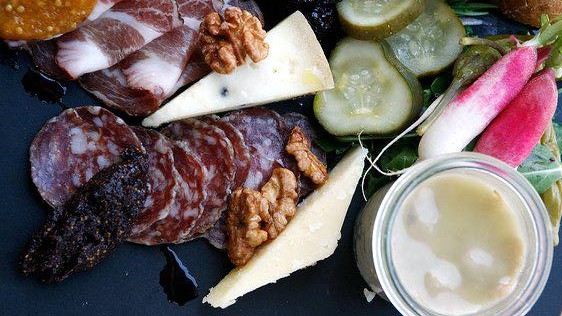 Three Seventy Common
Uncommon Mondays will feature a bevy of different dishes saluting other area chefs; they begin at Three Seventy Common in Laguna Beach on Monday, Sept. 17.
CHEF-SWEET CAMARADERIE: Cooking shows would have it that the restaurant business is, bar none, the most competitive business on the planet. There is truth to that, of course, but is every cook who dons a toque looking to undermine every other cook in a ten-mile radius? Of course not; in fact, any chef worth her wooden spoon would say that friendships and supportive alliances are more far common than recipe-snatching enemies. With that in mind, we turn our attentions to Three Seventy Common in Laguna Beach. Chef Ryan Adams -- he also owns the place -- is about to relaunch his Uncommon Mondays dining series on Monday, Sept. 17. What's the upshot, besides that it takes place on a Monday, when we all need a little extra succor and fun? Chef Adams takes each Monday to pay homage to another local chef he knows and respects, essentially turning his burners and pots and spoons to a competitor for the night. Nice, right?
FIRST NIGHT: Night one of Uncommon Mondays is up on Sept. 17; chefs from The Huntley in Santa Monica will be doing the food-making honors. Other upcoming Mondays will feature Eric Greenspan and some other Angelenos making the road trip south. Cost'll run $50 to $75 for the prix fixe supper. Oh, and because Laguna isn't too far from Newport, and this is Newport's big food week, let's pause before we depart to give a shout-out to Taste of Newport. Good thing Uncommon Mondays starts the day after Taste of Newport wraps, meaning area foodies will have the next bright thing to look forward to.