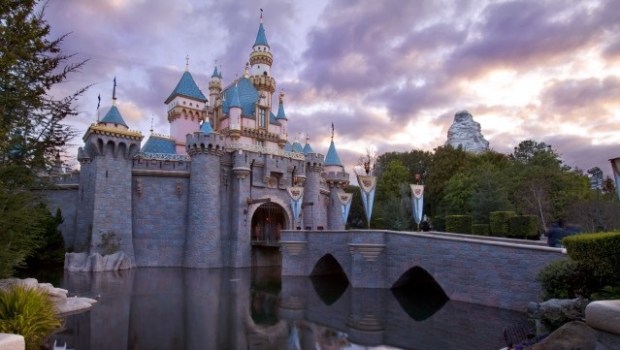 Disneyland
Dawn at Disneyland? You could see it when the park stays open from 6 a.m. on May 23 to 6 a.m. on May 24.
YOUR RITUALS X 2: Question: What do you do at Disneyland when your spirits are lagging and your mouth is yawning and you need a little oomph after the half day you've put in riding and walking and ice-cream-ing and people-watching and mouse-hugging? Every fan has their revive-me-now ritual. Some go for a bowl of tomato basil soup at the Jolly Holiday, some go for a refreshingly wet ride on Splash Mountain, and some rest in the cool of Walt Disney's Enchanted Tiki Room, a Dole whip float in hand. Whatever you do to wake up after a 12-hour push, though, you'll need to do twice on Friday, May 23: That's the 24-hour Disneyland event, where the Anaheim theme park stays open for 24 hours. Did we mention Disneyland is going to stay open for 24 hours? We didn't? Disneyland is going to be open for an entire day. Yep, 24 hours. Do you need to pre-nap at that news, just to store up energy? Go ahead, rest your head. We'll wait. Waiting. Still waiting. No worries. Sleep.
YOU BACK? Feeling fresh? Okay, great. So here's the supercalifraga-deal. The Happiest Place on Earth will be open from 6 a.m. on Friday, May 23 through 6 a.m on Saturday, May 24. This is not a midnight to midnight kind of thing. Nope. You'll be there from dawn to dawn, basically, Friday to Saturday. The mega-tomfoolery went down twice in 2013 -- remember the Leap Year Feb. 29 all-nighter? -- and my, was it popular, so count on a lot of night owls wanting to join in the fun. And the restaurants, too: Several Disneyland spots'll serve up special dishes in honor of the "Rock Your Disney Side" event. Like? Well, Plaza Inn is offering fried chicken and waffles, Rancho del Zocalo has a Street Taco Trio, and Gibson Girl Ice Cream Parlor is going with a Black and White Ice Cream Sandwich. In short? Festive touches will abound. Oh yeah, and speaking of the "Rock Your Disney Side" element to the 24-hour party: Guests are invited to dress up as Captain Hook, Tink, a Tiki bird, Hyacinth Hippo. Uh, you totally know "Fantasia," right? The tutu-wearing ballerina? Someone please go as her. Please please please.