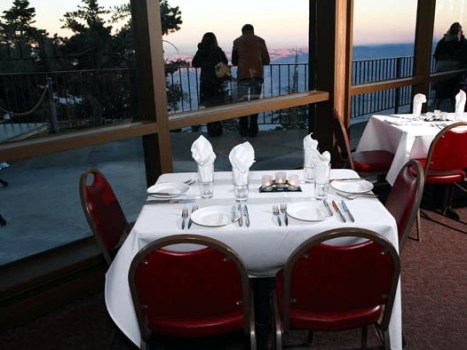 Palm Springs Aerial Tramway
Peaks Restaurant at the Palm Springs Aerial Tramway is putting on a Valentine's dinner.
VALENTINE'S, WAY UP HIGH: If one stops to ponder how many marriage proposals have gone down on trams around the world, one would have to probably guess pretty high, in number terms. After all, an aerial tramway has the benefits of views, of thrills, and of being something people don't normally ride every day, or even every year. (And if you do get to ride a tramway every day, lucky you; keep doing whatever you're doing, because it's working.)
HEARTS DAY AT PEAKS RESTAURANT: Southern Californians are lucky for many reasons, but one is that "the world's largest rotating tramway" happens to be nearby-ish, in Palm Springs. Making marriage-proposal-ing, and general Valentine's lovey-dovey-ness, easier. The Tramway's restaurant, Peaks, will be hosting a Valentine's dinner on Monday, Feb. 14; there will be a quartet of courses, and one drink (non-alcoholic). Price is $65, and you must must must reserve. But then lovey-dovey-ness takes some pre-planning, right? You're probably already on that.