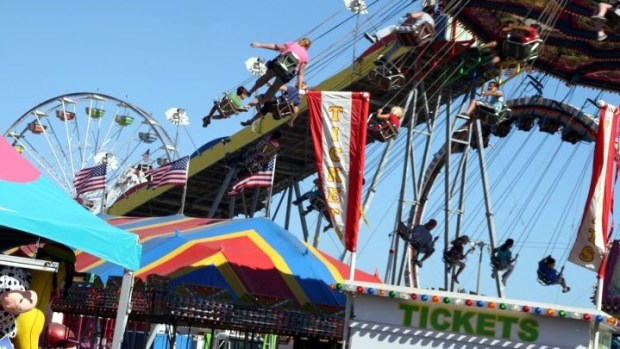 Ventura County Fair
The Ventura County Fair spins the swings from Wednesday, Aug. 1 through Sunday, Aug. 12.
AWESOME OVERLAP: There aren't many places in the country where two good-sized fairs that are a couple of hours apart overlap by several days. But the fact that the Orange County Fair and the Ventura County Fair do have some crisscross, time-wise, is yet another testament to the great fair-producing nature of this area of the country (and we haven't even gotten to the nation's largest county fair, which opens in Pomona on Aug. 31). So, what sets the Ventura County Fair apart? It isn't as large as OC or LA, but it does have a setting many other county fairs might trade their prized pies for: It is cheek-by-jowl with the Pacific Ocean. Yep, OC is fairly close, too -- LA not so much -- but Ventura is right there, practically atop the waves. Meaning you can do the rides and the pig-petting and still go play down on the sand. This is pretty rare for a fair, right? If you're in, hop the 101 and head for Ventura County Fairgrounds from Wednesday, Aug. 1 through Sunday, Aug. 12.
THE 2012 FAIR: The midway and the fried treats and the animals and the Pacific breezes will be back, as they are every year, but the highlights for this year include shows from Joan Jett and the Blackhearts, Boyz II Men, Lupillo Rivera, Big Bad Voodoo Daddy, and Martina McBride. There's also a new livestock center, too, to check out. And the always popular Special Admission Days (opening day, Aug. 1, is a buck; well, before 3 p.m., that is). For more on those classic spinning attractions and where you can coo over a piglet, eye the fair site.