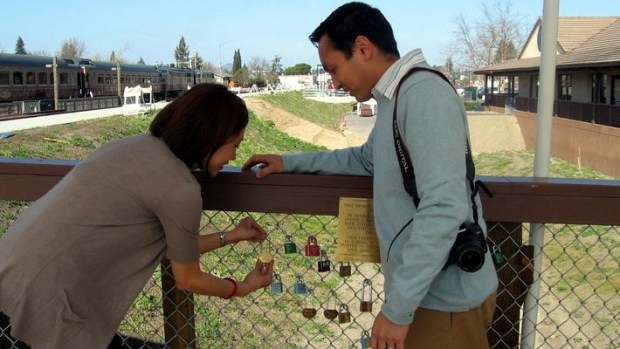 Napa Valley Wine Train
The Love Lock Bridge is next to the Napa Valley Wine Train.
BEYOND THE TRACKS: A good train has a lot going for it. Sure, it'll chugga-chugga passengers to their destination in punctual train fashion, but it will also have a few extras. For the Napa Valley Wine Train, those extras include special event rides -- think of full moon nights and Halloween and New Year's Eve -- and the occasional sing-along evening. But many people who dig the train are especially sweet on the Love Lock Bridge, which is not too far from the wine train's platform. You've heard of this, yes? It's a wee bridge with a fence. And on that fence? Locks left by couples looking to seal their particular deal, whatever that deal might mean to them. And then, the final step, of course: Throw away the key. Happy pairs do visit the Love Lock Bridge year-round, of course, especially following a glass of wine or two on the train, but bet Valentine's Day is a lock-heavy date on the calendar.
A FEW THINGS OF NOTE: The Napa Valley Wine Train is running a few specially themed Valentine's trains, both on the 14th and on the Saturday before; if you do book a couple of tickets, make sure you swing by a hardware store first to pick up your lock and key (even though the key will later by tossed; or, better yet, wear it on a pretty necklace). Also? The pedestrian bridge is set to come down in 2017, so your lock won't be on the fence forever. Take pictures, is what we're saying. And, of course, your love'll last past 2017, right? Total sure thing, bridge or no bridge.