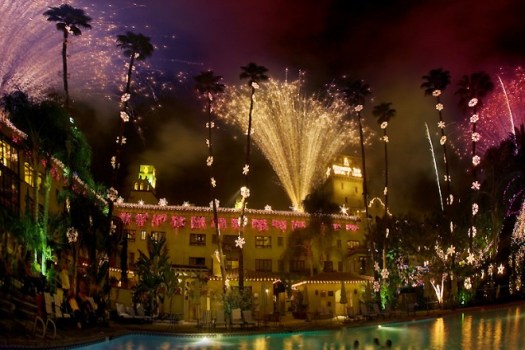 Mission Inn
Enjoy the Festival of Lights and say hello to 2011 at the Mission Inn in Riverside.
CALL IT A TWOFER: Most people are starting to give a wee bit of thought to taking down all those blinky lights. Maybe today, maybe tomorrow, maybe in July. But when there are 3,500,000 lights to think about? Best leave 'em up over the New Year, so more eyes can see 'em. That's what the Mission Inn Hotel & Spa is doing with its famous Festival of Lights. The bulbs are lit through Sunday, Jan. 2, meaning that partiers stopping by the Riverside hotel for New Year's Eve can enjoy them.
NEW YEAR'S AT THE MISSION INN: There are various New Year's Eve packages being offered by the hotel; jazz and dining at Duane's Prime Steaks and Seafood and all of those photographable bulbs are part of the Resolutions Package. Plus a valet and appetizers and party favors and other celebratory touches. Check out the details on specific seatings, dates, and prices. It's a great way to get a bit of Christmas, too, a week after the holiday itself. We support the leaving-up of the lights, whether you're a hotel or a house.