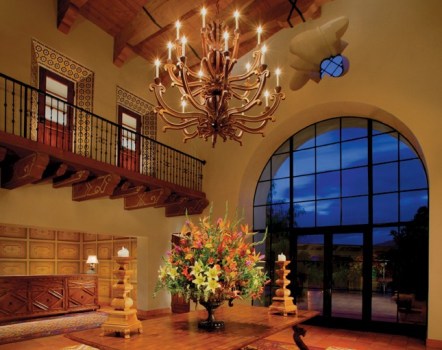 Ojai Valley Inn
The Ojai Valley Inn & Spa has a special cinematic treat on Saturday, Oct. 30.
ATMOSPHERE: The Ojai Valley Inn & Spa just possesses oodles of it, year-round. Now, we've never been there at the end of October, but we're guessing the hills-close hotel is full of fallness, and the natural surroundings have gone particularly golden. Which makes it the perfect place to watch a classic scary movie set in another wild and beautiful part of the state. That movie is "The Birds" and the inn is screening it on Saturday, Oct.30.
OH, AND LOOK WHO IS STOPPING BY: Tippi Hedren, the star of the film. She recently visited Bodega Bay to greet fans, and great gulls did we want to get up there for that. Didn't happen, but now we in SoCal have another chance. Ms. Hedren will be Q&Aing ahead of the famous film, which shows at 7:15 p.m. Money raised from the evening's ticket sales will help various beneficiaries, including The Shambala Preserve, which Ms. Hedren has worked with for several years (oh, and a ticket is $25).