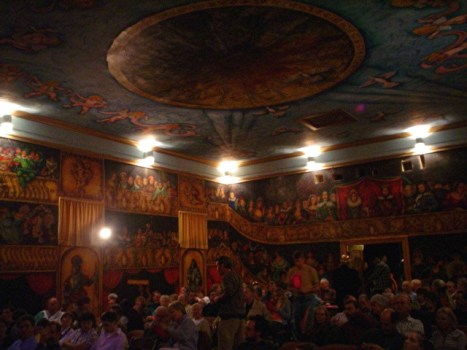 Alysia Gray Painter
The painted walls of the Amargosa Opera House in Death Valley Junction.
MARTA BECKET'S PALACE: You've heard of the famous desert ballerina and her magical opera house, the painted room that sits in the middle of a vast stretch of Death Valley. We've swooned -- only word for it -- about Ms. Becket in this space before, and raved about the fact that the Amargosa Opera House and Hotel, which housed borax miners long ago, now welcomes visitors. So why are people, nowadays, making the trek in impressive droves to Death Valley Junction? Simply put, they want to know more about the acclaimed dancer who chose to stop and make a life in Death Valley, and ultimately build and paint one of the world's finest examples of walk-in whimsy.
"IF THESE WALLS COULD TALK": The Saturday-night-Sunday-matinee, cooler-weather show at the Amargosa opens for the season on Saturday, Nov. 6. The show is performed by Sandy Scheller, but "inspired" by Ms. Becket. Ms. Becket also does a "sitting down show" during the matinee on Sundays. "If These Walls Could Talk" runs through May 1, 2011. Get ticket info.