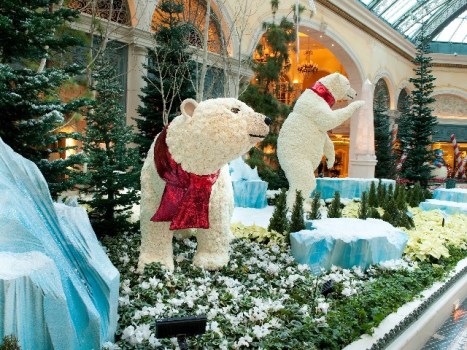 Bellagio
A peek back at the 2009 Bellagio Conservatory holiday display.
ICICLES IN VEGAS: If you've spent the Noël in Nevada, chances are good you've found yourself at Bellagio's Conservatory & Botantical Gardens. The hotel's glass-ceilinged, plant-laden heart changes theme a number of times during the year, of course. But the close of the calendar brings wintry flair and twinkly touchstones of the season, and just steps from the gaming tables and main casino floor, too. In 2010, those carefully rendered, oh-so-arty floral fripperies include animated penguins, faux icicles and a 42-foot Shasta fir.
WINTER WONDERLAND: Bellagio's holiday garden flowered on Friday, Dec. 3, and will run through Sunday, Jan. 2. In addition to the 28 penguins and the ornament-studded tree and the hints of glittery snow, there will be a "polar bear family" consisting of -- wait for it -- 16,000 carnations. Oh, and a team of reindeer, each one made up of "110 pounds of whole pecans" (we're trying to imagine that, as you likely are, too). As always, the Conservatory charges no admission and is open every day of the week. If you're in Las Vegas, and feel like you need some penguin-y prettiness and toy soldier-based merriment, turn your sleigh down the Strip and stop when you see the big fountains.