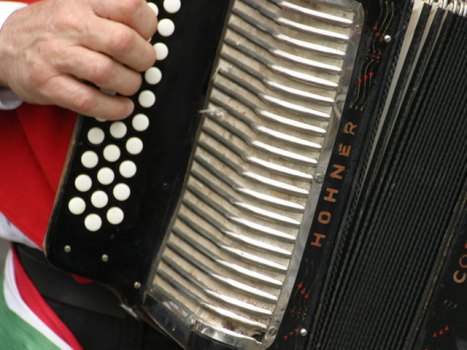 Getty Images
The 2010 Cotati Accordion Festival is Aug. 21 and 22 in Cotati, California.
COTATI ACCORDION FESTIVAL: This is one of the big ones on the accordion festival calendar. This is the calendar right above your kitchen sink, right? We wish it was above ours. Because. Daniel Handler of the Lemony Snicket books plays. So does sexy Joan from "Mad Men." We want to learn the art of the accordion, and we want to admire those who know it well.
"LADY OF SPAIN" AND BEYOND: The fest is wheezing on Saturday, Aug. 21 and Sunday, Aug. 22 in Cotati, which is a smidge south of Sonoma wine country. Make a wine-wheeze weekend of it? There will be polka. There will be zydeco. There will be café-style music, and accordion aficionados all strapped in. Bellow-y bliss.