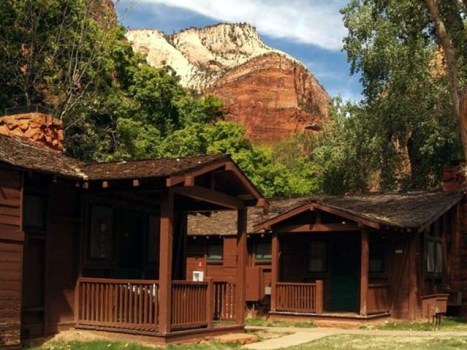 Zion National Park Lodge
Zion National Park Lodge has a special package on for November 2010.
OH "FALL," YOU FLIRT: If you owned a business -- and perhaps you do -- one of the first considerations you have to make is what to do come autumn. There's that beautiful word "fall," which of course has multiple meanings, and you may want to use it to indicated "falling" prices or something similar. Take the "Fall Into Great Deals" package going on during November at the Zion National Park Lodge. Two things are happening here -- you can enjoy discounted rates at the lovely rustic lodge, and you can enjoy the crisper temps and changing foliage. What we're saying is, thank you, fall, for giving us two things we like: wordplay and an excellent season full of color.
THE ZION DEAL: From Nov. 1 through 30, 2010, you can nab a room in the motel for just under $120; that's Sunday through Thursday, note, and the few days surrounding Thanksgiving are blocked out. That rate does include a hot breakfast buffet, which you'll need before hiking around in all that spectacular scenery. There are other types of rooms, cabins and such, so look over everything. And you know, of course, that Zion is a bit of a haul from SoCal parts, but if you're a national parker, you'll make the trip, gladly. And shouldn't we all be national parkers?