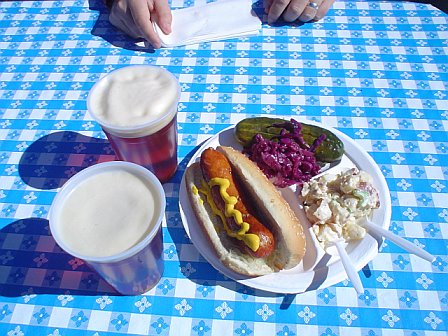 Alysia Gray Painter
Good eating at the Lake Arrowhead Oktoberfest.
FACT: If you've ever spent a crisp Saturday sipping something dark and frothy while people oompah in your near vicinity, you think about it. A lot. For example, we personally start wondering in, oh, maybe June or July, when the Lake Arrowhead Oktoberfest is coming back. And then, in September, we start impatiently visiting Arrowhead calendars, poking about, wanting oompah-related information. We've got that information, plus an interesting addition on Oct. 16.
FIRST: Oktoberfest. It opens on Saturday, Oct. 2 and runs through Saturday, Oct. 30. Weekends only, less Halloween. But look over here, on Saturday, Oct. 16: The First Annual Lake Arrowhead Brewfest. Interesting, no? The "First Annual" part threw us at first, because any sort of brewfest seems a good match with the Alpine community. Seems like something that's been up there for years and years. We mention all of this now because we might look into combining both events into one glorious, crisp-fall-crisp-brisk day on the mountain.