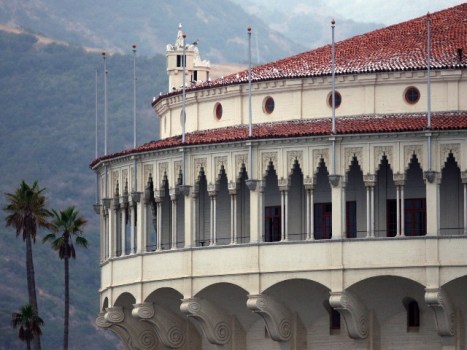 Getty Images
Go searching for spirits at the Casino Ballroom.
OCEAN-CLOSE GHOSTS: When even the bathrooms in a building have atmosphere, you know you're dealing with a spot that is ripe for spirit-searching. The woman's bathroom in the celebrated Casino Ballroom on Catalina Island is just a little time portal back to 1930, in our opinion, but then the whole beautiful round bluff-sitting building seems to possess time-portal properties. Which makes it an excellent visit on any paranormal outing, and, look at that: Catalina has such a thing. The group is called Ghost Tours of Catalina, and they look at the island's most famous building, as well as other locations nearby.
NOT JUST HALLOWEEN: We make mention of this Catalina walkabout now because we're at the close of October and ghosties are much on the brain for a lot of would-be travelers. But this tour company runs year-round on the island, and if you can't hop on a nightly 8:30 p.m. tour, you can look into booking one of your own. An adult ticket is $15, a kid 12 or under is $10.