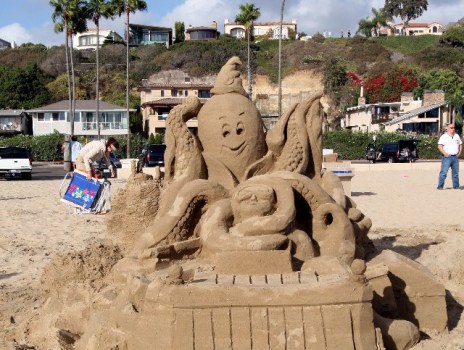 The Newport Beach Sandcastle Contest happens on Sunday, Oct. 3. (Photo credit: Newport Beach Chamber of Commerce)
NEWPORT BEACH BASH: Dear sand everywhere: You get used a lot in various analogies. Oh, "the sands of time" is something we talk about, and we talk about things made of sand as being impermanent. But a festival that has been around for decades -- that is, in fact, one year shy of its half-century mark -- is not an impermanent thing at all, even if it is built upon sand. So we're saluting the Newport Beach Sandcastle Contest, which is celebrating its 49th year on Sunday, Oct. 3.
COMPETE OR CHEER: If you've got castle-building in your soul, sign up (there are rules). If you can't make a pile of potatoes stand fluffy, best watch. Either way, it is a fine day on the beach, and it'll be the finish of one of SoCal's hottest stretches in a good long time. The location is Corona del Mar State Beach. We like that the prizes include tickets on the Catalina Flyer. That sounds equally beachy and ocean-loving, and it is nice when the prize fits the game. Like "let the punishment fit the crime" only the flip side and much, much better.