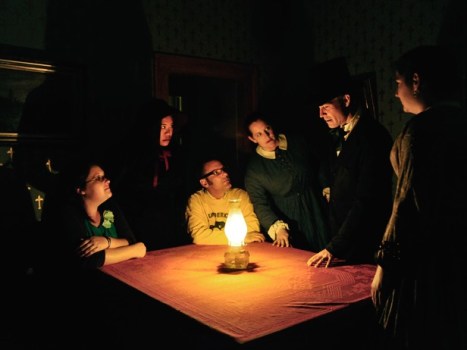 Photo by Sandé Lollis
Join the Oil Lamp Tour at the Whaley House on Oct. 25 and 26, 2010.
OLD TOWN TREASURE: You probably have your favorite must-do in Old Town San Diego. There are those famously tasty (and oversized) margaritas at Cafe Coyote y Cantina. There's also the breezy pleasure of wandering the shops. But every visitor to the area must and absolutely has to visit the Whaley House, whether they are looking around for a bit of history or a bit of ghosty. Because the 1857 house is jam-packed with 19th-century artifacts, and, many say, spirits, too.
EMBRACING BOTH ASPECTS: The people behind the landmark have done an excellent job at shepherding both the historical preservation of the building, while welcoming those who want to see what is often called one of the most haunted spots in the country. And, come October, there are several events that might appeal to both groups (and we say "both groups" knowing full well there is much crossover between the two). The October event we are most intrigued by is the Oil Lamp Tour. The tours are happening at 10:30 p.m. on an upcoming Monday and Tuesday night -- that's Oct. 25 and 26 -- which we applaud. Because, really, who is busy at 10:30 p.m. on a Monday? You can go. Just stay the night with a down-south friend, or grab a hotel. And sleep tight.