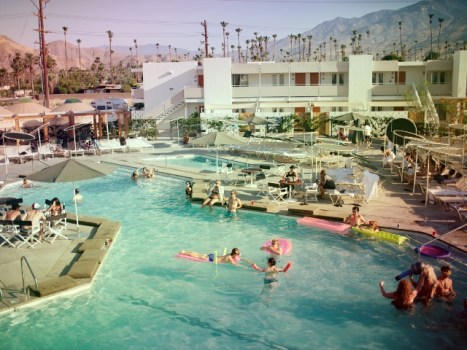 Sarah Yates
The Black Sheep Thanksgiving is on at the Ace from Nov. 25-27, 2010.
THREE-DAY THANKSGIVING: When a certain Thursday in November arrives, people often ask similar questions. Like, are we going to watch football all day? Or, can we just watch football all day? Or, why doesn't anyone ever save me a roll? But rarely is "who'll be first in the pool" asked, except at a certain Palm Springs hotel, a place that seems to work a festive pool party even into the least pool-party-ish of occasions.
AND FOR THIS WE ARE GLAD: The Ace Hotel's Black Sheep Thanksgiving does start with a special Thursday dinner at the King's Highway, and then it keeps partying right through Saturday, when there's a DJ to-do by the property's much-photographed waves. If you couldn't make it back home, and you feel like making relatives in colder climes just a smidge jealous, send 'em a pic of yourself with a piece of pie in one hand, and your floaties in the other.