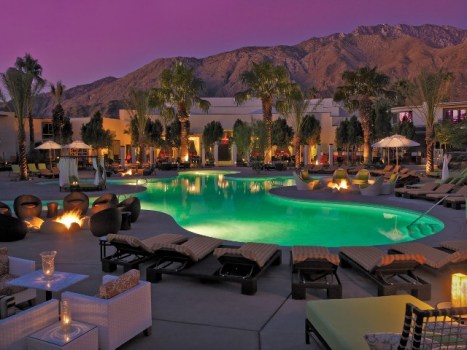 Riviera Resort & SpaJ
Just remember to take off your jingle bells before you jump in.
SATURDAY CELEBRATION: Well, lookie here. Christmas 2010 is falling on a Saturday, meaning a lot of hotels will likely be building weekend packages around the holiday (a very good thing to look into if you're somewhere visiting family but there are no more pullout couches for you). The Riviera Resort & Spa in Palm Springs has such a package on, and not only is a room part of the deal -- no shocker, hi; it's a hotel -- but a sumptuously sumptuous Christmas Eve or Christmas dinner.
EVEN BETTER: The resort will also be doing Christmas dinner on Sunday, Dec. 26, in case you have a date at a third cousin's house on Dec. 25. Nice. We like the extending of any holiday food feast. $257 is the starter price for all this merriment. Oh, and you're packing your swimming trunks, right? It won't be 105 degrees out in lovely P.S., but the chances of you stretching out on the deck with some tanning butter and a holiday romance paperback are probably fairly high.