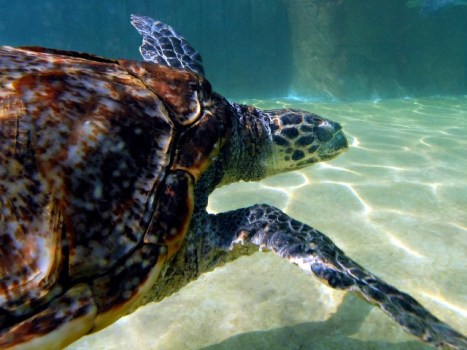 SeaWorld
Sea Turtle Bay will open at SeaWorld in San Diego in summer 2011.
AMAZING REPTILIA: The fact that Underwater Parks Day is just ahead -- that would be Saturday, Jan. 15 if you're looking to mark your calendar -- has us thinking of the new attraction set for a summer 2011 debut at SeaWorld. It's called Sea Turtle Bay, it comes complete with a 300,000-gallon aquarium (that's called "Turtle Reef"), and it will put the focus on green sea turtles as well as hawksbills. Seaworld says several dozen adults will be gliding through the aquarium, in addition to turtles hatched just over a year ago. Call them hatchlings, if you wish. We wish.
BEYOND ADMIRING: The message of Sea Turtle Bay is one of preserving these noble reptiles; part of the exhibit will talk about the fact that turtles often see human-made trash and mistake it for food. Keep a watch at the SeaWorld site for opening dates and information.