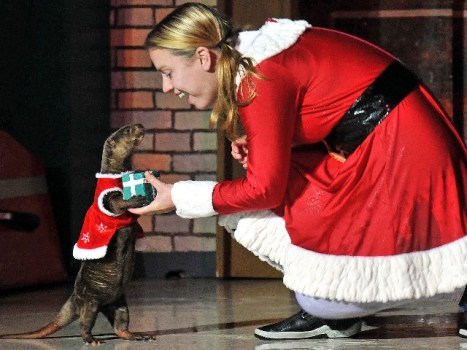 SeaWorld
Pinnipeds are part of the holiday celebrations at SeaWorld San DIego.
SEASONAL SEAWORLD: Like the bigger theme parks up 'round our way, SeaWorld in San Diego has been hanging the holly and staging a few productions with a yuletide bent. But fins'll really get flapping down in SeaWorld on Saturday, Dec. 18, when SeaWorld's Christmas Celebration becomes a daily event through New Year's Eve (prior to now it had been basically weekends only).
CLYDE AND SEAMORE: The pinniped pack is putting on "The Night Before Christmas" -- otters and sea lions offering a "comical twist" -- and there's a dog show called "Christmas Tails." The Polar Express 4-D presentation is already going every day through Jan. 2. And if you prefer your H20 really cold, there's ice for the skating. Plus more merry merry, like lights and Santa's Cottage. Get details on prices and times before backstroking on down. Pinnipeds! An underused word, except among devoted sealians. Which we should all be.