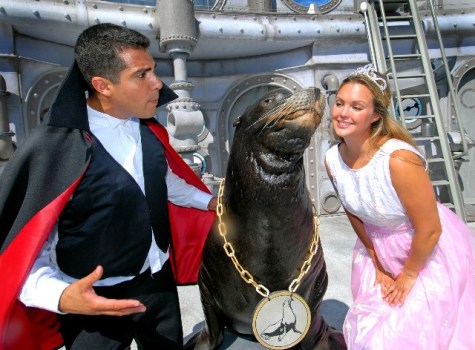 SeaWorld
It's Halloween Spooktacular time at SeaWorld in San Diego.
THE SEA LIONS ARE CELEBRATING: And so are the otters. And array of other SeaWorld denizens. It's October, which means the aquatic theme park has turned its weekends over to all sorts of creatures, Halloween-themed stage shows, and the handing out of healthy treats.
WHAT'S HAPPENING: Flippers get frightful (and funny) at Clyde & Seamore's Trick-or-Treat, while Pirates 4D has an onshore adventure. Count Von Count and other "Sesame Street" characters will be out and about, Halloweening things up, too. Plus, there will be tentacled and gilled beasties to get to know. Some of them look scary, what with the impressive jaws and various suckers, but they have things to teach us landlubbers. Get more info, prices, and dates -- again, this is just weekends, from 1-6 p.m. and just during October -- at the SeaWorld site.