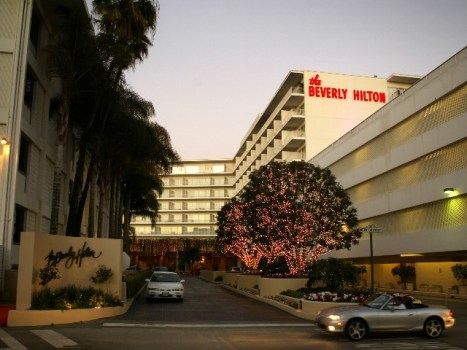 Getty Images
The Beverly Hilton, home to the Golden Globes.
STARRY SLEEP-OVER: Those famous $3000 Golden Globes packages may be sold out -- word has it they tend to go lickety-split, upon the Hollywood Foreign Press announcing a date for the awards -- but you can still, of course, sleep over, on another date, at the Beverly Hilton, the hotel where the awards ceremony happens each and every year. Maybe you won't be bedding down on the stage itself, but you won't be all that far from where the stars do the whole wave-and-smile thing they do so well.
LEISURE AND SPA PACKAGES: The Bevery Hilton offers a few, both in the couples-centered and family-focused categories. The Beverly Hills Romance Package has the chocolate-covered strawberries, if you're wondering; maybe something to think about for Valentine's Day? Or perhaps the night of the Oscars. In fact, the Golden-Globes-famous hotel seems the perfect place to watch the Academy Awards at, on TV, with room service. Check out details and must-knows.