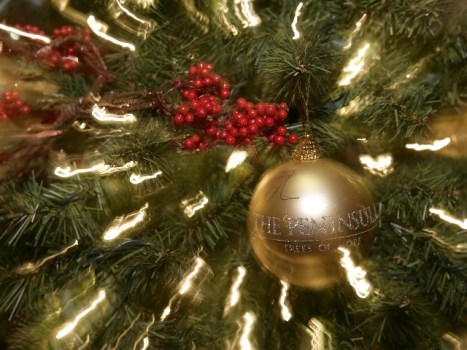 The Peninsula
The Holiday Supper Club opens at The Peninsula on Wednesday, Dec. 1.
CAROLS ON THE PIANO: There may be dozens of ways to celebrate the season -- in a quiet way, or by watching TV specials, or by baking, or by all of the above -- but too few involve dressing to the nines and going out for a night of sparkle and fabulousness. In our opinion. With that in mind, when we see something that is perfectly posh and old-school and classy and frankly fabulous, we make immediate mention. Here's that mention: The Holiday Supper Club is opening at the Peninsula in Beverly Hills on Wednesday, Dec. 1.
SWANKY SOIREE: Pianist Antonio Castillo de la Gala will be making the beautiful music in the hotel's Living Room every Tuesday through Saturday night (Broadway tunes are promised, in addition to carols). And there's a $39/person menu that boasts fancy-dancies like baked oysters and Buche de Noel (add on ten dollars and get a glass of bubbly). You see where we are going here, right? This is dress-up holiday time. You can watch the holiday show you DVR'd when you get home, and get in your jammies, but being able to glam it up for a holiday-time night out is too rare. Call the hotel for more info and reservations. Or read more about the supper club, and other holiday to-dos, here.