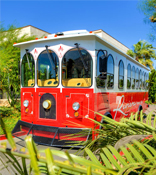 The Riviera Resort & Spa
Ride the Riviera's trolley bus into Palm Springs.
TROLLEY TIME: "Trolley," like "motorcoach," is just one of those words that summons the concept of a vacation to us. After all, you may ride in open-air vehicles at home, but does your open-air vehicle have little wooden benches and go "ding ding ding" in a trolley-like fashion? We rest our case. The Riviera Resort & Spa in Palm Springs recently acquired its own "ding ding ding" machine, a bright red trolley bus that takes guests into the Palm Springs shopping/eating/strolling hub, gratis.
SEVEN DAYS A WEEK, TOO: And while the Riviera trolley doesn't go late-late-night, it does run fairly late-ish every night but Sunday. Meaning you can have a meal and get back to the hotel for a before-bed swim in the famous and much-photographed Riviera pool.