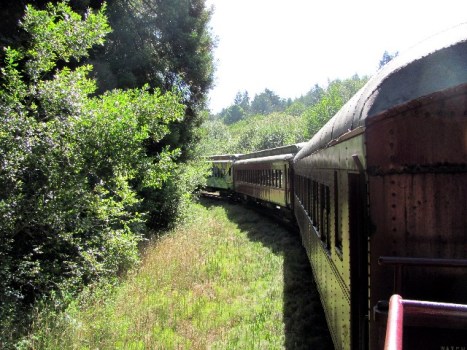 Alysia Gray Painter
The Skunk Train in Fort Bragg offers holiday rides.
SKUNKY SWEETNESS: Well, it is a fact: We wish we had a giant, half-a-state-long Skunk Train to take us to the actual Skunk Train, which is famously located in Fort Bragg, which is famously located on the Northern California coast, which is famously not all that close the Southern California. Our state? Kind of stretched. But we don't have such a mega train to take us there, and thus we must rely on cars and planes to get us to the real train, and that's okay. Because the Skunk, which is certainly one of the Golden State's most celebrated choo-choos, makes for a memorable day out.
CHRISTMAS RIDES: Like our SoCal trains, the Skunk Train goes seasonal with visits from Santa in December. If you'll be in the area during the holidays, we'd check the schedule and plan a day up in the coast-close redwoods for your crew. It's a really pretty ride, with numerous twists and turns along the way. Oh, it should be good and chilly on that open car, too. Sweet. Christmas Trains start on Saturday, Dec. 4.