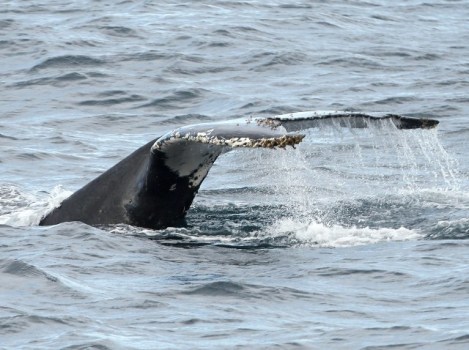 Getty Images
Hornblower Cruises kicks off its San Diego whale watching on Saturday, Dec. 11.
BEAUTIFUL GIANTS: While we run around here on terra firma, finishing naughty/nice lists and buying cupcake pans and remembering to RSVP for all the things requiring RSVPing, things are going down in the rather large-ish body of water to our west. That rather large-ish body of water: the Pacific. Things going down: Well. How much time do you have? Literally countless things are of course going down, but we want to reference gray whale watching here, and dolphin watching, too, and how Hornblower Cruises in San Diego will be kicking off its Whale & Dolphin Adventure on Saturday, Dec. 11.
FLIPPERED FAUNA: Even if a blow-hole-y wonder isn't spied on your oceanic voyage, you'll likely see some beautiful birds or perhaps a sea lion or harbor seal. Anyway, it is always a welcome respite to be out on the water, for a good three-and-a-half hours, even if you do have to bundle up a bit this time of year. Get price and date details, and kudos to TravMedia for the tip. We're waving our barking, seal-style, happily in your direction.