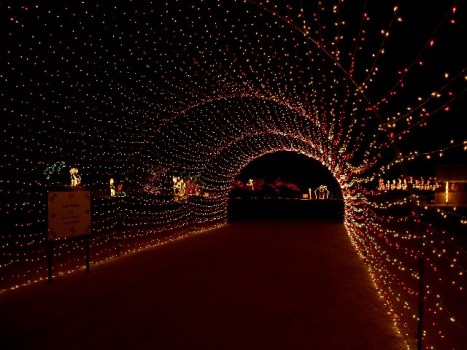 The Living Desert
Get the info on WildLights at The Living Desert.
NIGHT AND NOËL: The Living Desert in Palm Desert is devoted to "Desert Conservation Through Preservation, Education, and Appreciation" year-round, but the animal-focused spread takes a bit of time around the holidays to string up a light string or two. Wait, a light string or two? Make that 750,000 bulbs. It's WildLights, an annual nocturnal walk-through that has festive cheer and plenty more.
ABOUT THAT "PLENTY MORE": Carousel rides, hot chocolate, and s'mores. There's a lot to look at, in fact, beyond the bulbage, so make sure you find the features you want to see most. Note that WildLights was on for Thanksgiving week and will be twinkling again starting on Friday, Dec. 17. If you're making a trip to the desert over the holidays with the plan to spend a night or two over, have a look. And, of course, The Living Desert is definitely worth a daytime visit, too. A general adult ticket to WildLights is $8.