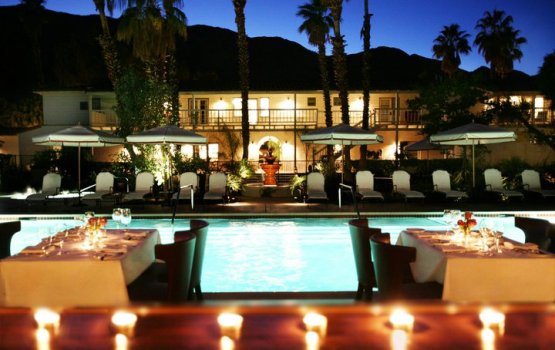 Palm Springs Restaurant Week
Eating at night, by a pool, is a singular summertime pleasure. Enjoy it at a number of locations during Palm Springs Restaurant Week.
LOOKING AHEAD: We're fans of being in the now and honoring the moment and savoring what's happening, but there can be a bit of daydreaming when it comes to weather-based pursuits. Indulging in such flights of fancy isn't suggesting you're disconnected to what's going down your world; rather, it's necessary if you're planning a vacation to a different clime, at a different time, with the requisite anticipation. So when it is too hot we think of a mountain drive, and when chillier days arrive? We daydream about eating by a pool in the desert by night. You, too? We're just assuming here that that daydream is a shared one, by many people. There are few pleasures to equal it -- good food + a great companion + sunset + candlelight + pool -- and there are few places that do it better than Palm Springs. Please, the city practically could TM the concept of pool-adjacent dining by moonlight. And while not every P.S. eatery boasts its own watery blue rectangle -- though quite a few do -- they still have sunset and those mountains. Eager for a little late-winter daydreaming in this direction? Feel free to indulge, because Palm Springs Restaurant Week is coming together.
COMING TOGETHER... at the end of May and beginning of June, which we rather love. We won't break out the word "audacious" in terms of scheduling a big eat-out event just when things are getting especially roasty around the desert resort destination, but we will say that when Palm Springs is hot it is kind of in its full-bloom prime, with every third person rocking a pair of swim trunks and the smell of coconut oil in the air. So heading out to any one of "over 100 restaurants, hotels & attractions" during its heat-up moment has definite allure. You'll find mondo deals, and some milder deals, depending on the cuisine and scene you're looking for, so keep an eye on Restaurant Week HQ for all of the updates. So, what are you doing May 30 through June 8? You could be daydreaming at home or actually enjoying a salad and glass of Chardonnay, in person, near a pool in the desert.