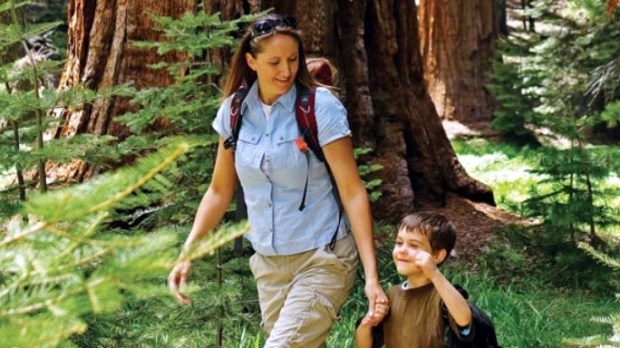 DNC
The Wawona Hotel in Yosemite National Park is again offering its popular Hiker's Package.
VALLEY VS. NOT VALLEY: There are some national parks that are very synonymous with particular feature. Yellowstone? We often think of Old Faithful Geyser. Death Valley? Yep, the valley itself, even though the park is full of mountains, too. And Yosemite? Many a mind wanders to a certain deep canyon, backed by Half Dome and Glacier Point. But, of course, the park stretches over many, many more miles -- Yosemite Valley, its most photographed area, is just a small sliver -- and it deserves a visit or two. And while many a visitor heads for the high country and Tuolumne Meadows, still others make for the famous Wawona Hotel, which sits about an hour outside of the Valley. The Wawona is known for many things -- its stately buildings and the fact that Teddy Roosevelt overnighted there -- but it is also close to Mariposa Grove, which contains several giant sequoias. Sequoias that are perfect for strolling by, which is perhaps one reason why a popular hiker's package has just been revived with the Wawona in mind. (Okay, Curry Village, which is in the valley, is also included, so let's give that historic encampment a shout-out, too.)
THE DEAL: You'll get lodging for two at the Wawona, and breakfast, too. You'll also receive a picnic packed to go, an "Easy Day Hikes" book, and a map. It's true that colder weather is due, but November can be an especially mellow time around the park, and snow-free, too (just check the forecast, of course). The Curry Village deal skips the picnic lunch part and throws in a backpack and a couple of waters. Either way, whether your trudging about the meadows of the valley floor or Mariposa Grove, hiking in Yosemite is a treat. And yes, we started by suggesting you should get to know the area outside the valley, but we mean no disrespect; like everyone, we're drawn, time and again, to El Capitan and its giant granite friends.