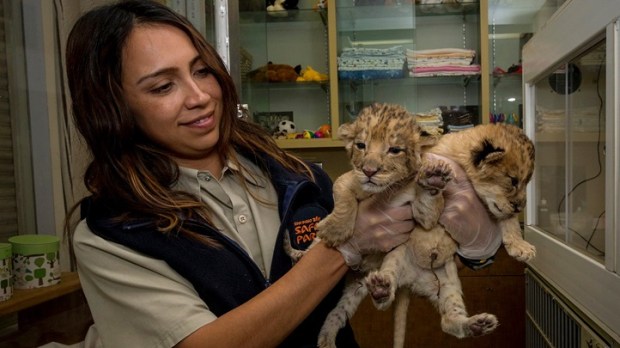 San Diego Zoo Safari Park
Two new lion cubs were born on Friday, Dec. 6 to Oshana and Izu at San Diego Zoo Safari Park. The cubs'll make their debut at the animal park in the coming weeks.
SING ALONG WITH US: Perhaps there is no more apt song to describe the cyclical nature of, well, nature, then "The Circle of Life." You knew we were going to summon that classic tune from "The Lion King," yes? Yes. And that circle, or a version of it, at least, was much on display at the San Diego Zoo Safari Park in recent days. The first news arrived on Dec. 5, when the animal park announced that Saticoy, a condor "who was hatched and grew up while being viewed on the Safari Park's Condor Cam in 2012," was "released to fly free in the wild." After he spent several months growing up on the cam, Saticoy headed for the Bitter Creek National Wildlife Refuge, where he and a pair of other condors got familiar with each other and prepared to take to the open air. That "take to the open air" part happened on Dec. 5, surely a bittersweet moment for the many condor fans who grew attached to the condor chick and saw him gain his feathers, both literally and figuratively.
THE CIRCLE CONTINUES: As Saticoy bid his refuge adieu, and headed into the wild, the Safari Park welcomed two new residents: A pair of lion cubs born to Oshana and Izu on Friday, Dec. 6. True, condors and lions aren't all that related, but can we, and shall we, be inspired by animals flying free and animals being born, all within the big vigorous Circle-of-Life-y way of things? Yes, we shall. Safari Park has been posting a few awwww-garnering, "Like"-getting photos on its Facebook this week, in lieu of the cubs actually being on view. The female and male cubs will be, eventually, but you can get your furry fill by watching social media for the time being. And, like Saticoy, they'll get their names and their feathers along the way. Proverbial feathers, of course. Just the growing-up, life-understanding lessons that all earthlings undertake as they grow.