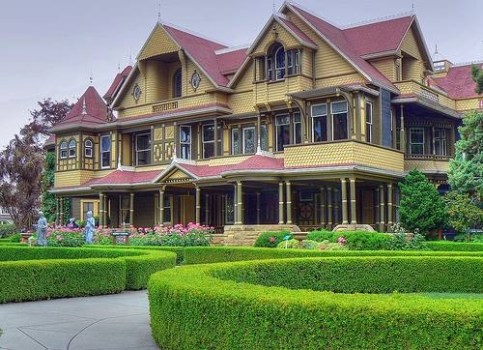 Winchester Mystery House
The Winchester Mystery House hosts a Wild West Weekend over Memorial Day Weekend 2012.
LACE VS. LEATHER: Really, it was our own fault. Whenever we get to thinking of the Winchester Mystery House, we muse about its high Victorian style and stained glass and its lace and the fancy inlaid wood and rocking chairs. We think of spooky Friday the 13th flashlight tours and we think of the rare photo of the mansion's doyenne Sarah Winchester out about her grounds. In short, we've painted our own picture, inside our head, as probably any regular visitor to the famous attraction does. So when we heard there's to be a Wild West Weekend at the landmark, we had to briefly pause and remember that Winchester Mystery House is very much a product of that chapter of American history. (Yep, the name "Winchester" is a rather obvious clue). It was never simply an impressivly sized Victorian pile done up in lace and wallpaper like many houses of its day. The San Jose icon has stronger ties to the legends of the West and Western giddy-up culture than most places, in fact, and much that Wild-West-iana will be on display from Saturday, May 26 through Monday, May 28.
COWPOKES AND MORE: All sorts of britches-wearin' cowpokes'll be on the grounds, making nice with visitors wanting to sit for an old-timey portrait or visit the saloon (those would be 21+ visitors, naturally). Carnival games, barbecue eatin', and mansion tours are available in various ticket combos. And while it is true that we'll always sort of think of the Winchester Mystery House as a place of widow's weeds, fancy Victorian chairs, and ticking grandfather clocks, perhaps, in the future, we'll turn a gimlet eye to its gun-related Old West roots as well.