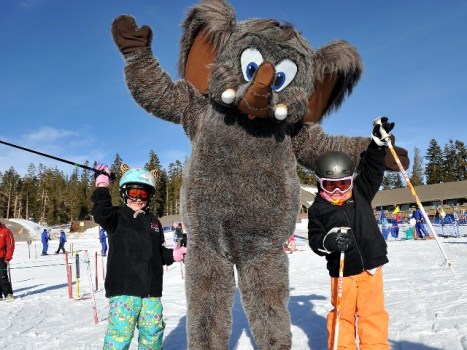 Mammoth Mountain
It's Woolly Winter's Carnival at Mammoth from Feb. 25-27, 2011.
MAMMOTH MOJO: You go to Mammoth. You love Mammoth. But do you ever consider the word? Yes, it means "big," which it certainly is, but it also summons to mind a certain prehistoric beastie. And that beastie will be out, on skis, trunk a-flyin', during Woolly's Winter Carnival, which takes to the slopes at the mountain resort from Friday, Feb. 25 through Sunday, Feb. 27.
FAMILY FUN: If the words Woolly's Winter Carnival make you think the weekend is especially kid-focused, and that a fuzzy-suited skier might be popular with the younger set, you'd be correct. Not only is the Carnival fam-fun-ness, but a kid can ski for free with a paying grown-up skier. A good deal. There will also be a whole snowball of kidly stuff to do, like scavenger hunting and sledding. Our only question is this: Will Woolly Mammoth show with his own mom or dad, so he can ski for free?