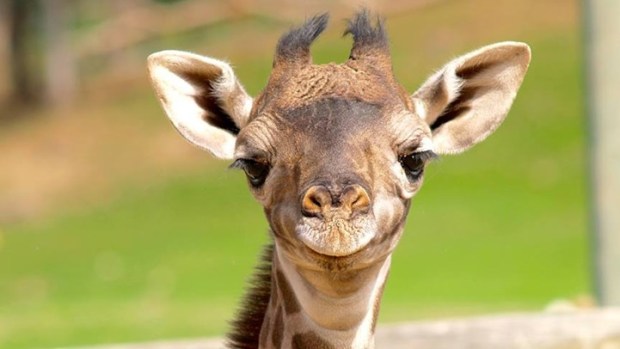 Safari Park
Safari Park celebrates World Giraffe Day on Saturday, June 21.
THE FIRST WORD: What's the first thing you say when people say "giraffe"? Do you say ossicones, which are the horn-type bulbs found atop its head? Do you say ruminant, which is the type of mammals giraffes are? Or do you say patches or spots, in honor of the giraffe's distinctive coat? Nope, you probably don't, we're just guessing. What you do say, however, is the word "tall" -- correct? Oh, you might opine that giraffes are long of neck or leg, but tallness tends to be what most people talk about when talking about all things 'raffe. So it makes sense that the first-ever World Giraffe Day happens to be on the tallest -- er, longest -- day of the year. That's the fun word from the Giraffe Conservation Foundation, at least: The day... "will be celebrated around the world on 21 June 2014 -- the longest day of the year in the northern hemisphere seemed appropriate to celebrate the tallest animal!" Cute, and easy to remember, too. We like when particular animals get particular holidays, especially those in the conservation loop, but to mark their day, we need to go to where they are. One regional spot with giraffes will be observing the World Giraffe Day, so we'll be turning our jeep towards Safari Park in Santa Rosa.
ON THE CALENDAR: A slate of giraffely activities is on the schedule for the first day of summer, including "a fascinating presentation about all 9 types of giraffes..." Face painting, drumming, and more giraffe-oriented good times await. Do you know someone who counts the giraffe as their most favorite animal ever? The person with the calendars and the stuffed animals and the magnets? Drive them to Santa Rosa for a little human-giraffe par-tay-ing. Conservation, beauty, knowledge, and fun await. Oh, yes, and a few tall, tall beasties, too.