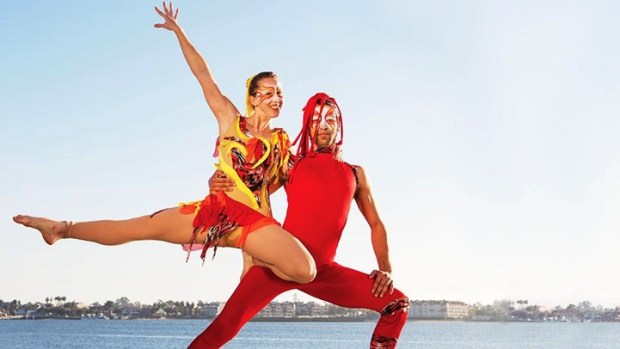 San Diego Busker Festival
Buskers make for San Diego's Seaport Village and Embarcadero Park on Saturday, March 29 and Sunday, March 30.
WHAT ARE THE GIFTS... of the street performer to a viewer? A bit of whimsy, yes, and a bit of wow, but we'll also add that the element of surprise is part of the pleasure of watching a juggler or acrobat perform on a sidewalk or in a park. One minute you're running errands and making lists in your head and then kaboom! You're admiring a mime as she attempts to free herself from an invisible box. (Side note: Mimes, stop climbing in boxes!) Buskery, aka street performance, is a healthy dose of unscheduled whimsy and fantasy swirling through our heavily scheduled lives. It's just that "oh wow, I gotta watch this" feeling that lends to the minute, or five, you spend watching talented musicians or clowns or live statues ply their offbeat, but oh-so-necessary, trade. But if you don't mind the whole surprise element being taken away, as in, turning a corner and finding a mime, then put this famously unscheduleable delight down in your calendar, now, for the San Diego Busker Festival is straight ahead.
DATES AND DETAILS: Things will be mightily buskery -- that's buskery, not blustery, which it tends not to get 'round San Diego -- over the last weekend in March. That's Saturday, March 29 and Sunday, March 30, and the spot? The clown-ready, always lively Seaport Village and Embarcadero Park. Aerial marvelists, unicyclists, a human balloon act, a player of the Didgeridoo, and a caboodle of day-enhancing delights shall go down. It's happening both afternoons, with some busker action after dark, and the price? You guessed it: free. How many whimsical and strange and spontaneous art forms carry that tag nowadays? Answer: Too few. And how many times can we watch a mime walk against wind? Answer: Many times. Is that the best mime classic, second only to The Box? Buskerists, discuss.