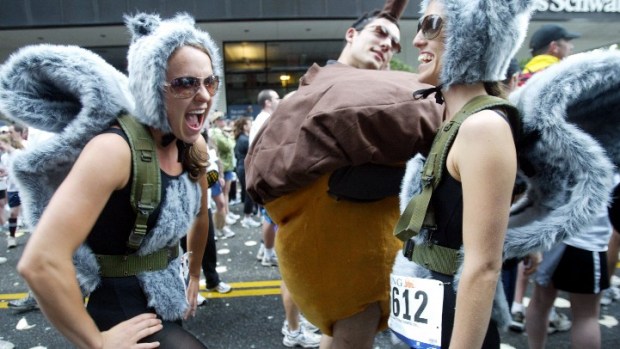 Cindy Chew
The 2011 Zazzle Bay To Breakers 12K runs in San Francisco on Sunday, May 15.
NO, SERIOUSLY: We're not sure we could foot it across San Francisco in a Storm Trooper outfit, what with its general San-Francisco-y hilliness, but some hardy types have, and with aplomb. But the annual Bay to Breakers is all about bringing it, and if "bringing it" means jogging, or even walking, for several kilometers in a full-on, clankity-clank outfit, then so be it. The next Zazzle Bay to Breakers 12K is happening on Sunday, May 15, and it is a biggie. How biggie? It's year 100 for the much-loved annual tradition.
THE DETAILS: The route runs from the Embacadero and heads west to the Great Highway. We mentioned hills, right? There will be some steep grade action around Hayes Street Hill. So if you do plan to don a costume, as many participants tend to do with Bay to Breakers, make sure there aren't issues with ascending and descending. And make sure you can see, too, because we can't think of a better way, save hanging off the side of a cable car, commercial-style, to take in our cousin city to the north. The day is a barrel of merry monkey business, with some serious competitive running thrown into the mix, and barrels of merry monkey business don't come around enough in this world. Happy 100th, Bay to Breakers!