NBC4 Sports Anchor Fred Roggin Honored with Lifetime Achievement Award
Monday, Jun 24, 2013 | Updated 2:45 PM PDT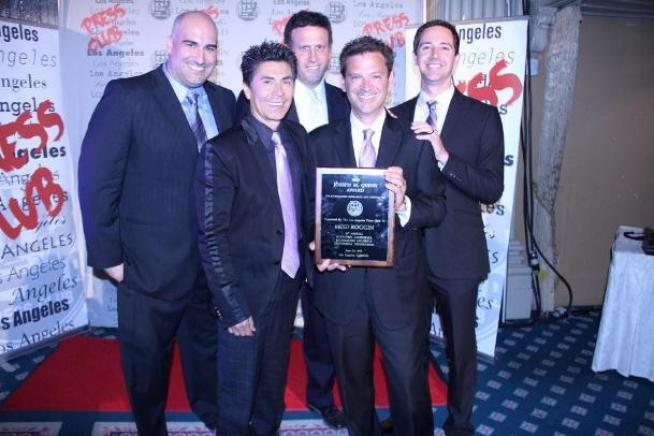 Fred Roggin, Mario Solis and producing team in the NBC4 Sports Department at the Los Angeles Press Club Awards, June 23, 2013.
NBC4 Southern California earned several top honors at the Los Angeles Press Club's 55th SoCal Journalism Awards on Sunday night, June 23. NBC4's sports anchor of more than 30 years, Fred Roggin, received the Joseph M. Quinn Award for Lifetime Achievement, the highest honor bestowed by the L.A. Press Club. Hall of Fame inductee Bob Miller, best known as the play-by-play announcer for the Los Angeles Kings, presented Roggin with the award, Roggin now joins a select group of distinguished journalists, including Walter Cronkite, Tom Brokaw and Ted Koppel.
In addition, NBC4's weekend Co-Anchor and General Assignment Reporter, Robert Kovacik, earned the Television Journalist of the Year Award, and the station won for its investigative story on the Los Angeles Fire Department, which raised questions about the department's response times. NBC4 was also recognized with an Advocacy Journalism Award for California's change in autism insurance coverage and its impact on Southern California families.