Dance, DJs, Fancy Dress, Drums: Fusion Fridays
Join the Pacific Asia Museum's lively summertime party series.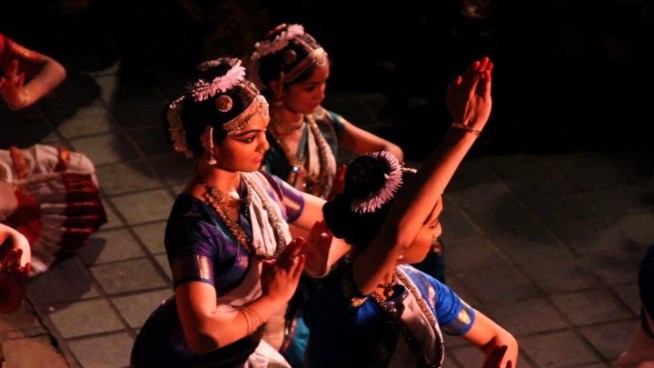 Shakti Dance Group
Performance groups like Shakti Dance are a favorite at the Pacific Asia Museum's Fusion Fridays. The season's opening party is on Friday, May 17.
The summertime dance party that brims with puppetry and cinematic flair and food trucks and DJs and art is a welcome staple on the Southern California calendar.
Fusion Fridays at Pasadena's Pacific Asia Museum is one of the best examples of how all of these elements flow together and turn into something a bit wonderful on a summer's night. But then the whole point of the night is fusion, and a coming together of different cultures and tastes and sounds, all under one roof.
Or make that the night sky, since Fusion Fridays unfurl in the museum's pretty courtyard. The first one is just ahead, on Friday, May 17, and there are three more dates to follow: June 21, July 19, and August 16. Tickets are $15, and there is a cash bar.
What will you see in terms of performance and entertainment? Bollywood dance is ahead, as are Indonesian shadow puppets. A Maori haka warrior dance is the centerpiece of the June 21 Fusion Friday, and Korean drumming will thrum it up on July 19. Bhangra beats and a Chinese Lion dance round out the final night of the summer.
Now, what's your part? Besides paying for entrance, getting a drink, and loving the scene? You're asked to dress up: "cocktail or Asian attire is encouraged," says a museum rep. The time is 7:30 p.m., so you'll have a chance to get home and gussy up before making for the Crown City institution.