Free Getty Grooves: Saturdays Off the 405
Electro-cool act Quadron sings in the popular summertime series.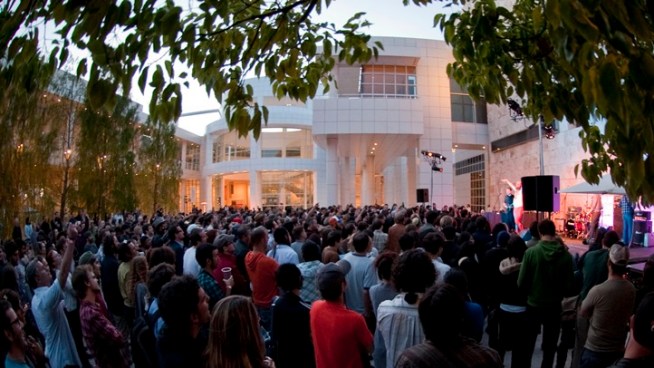 Courtesy of the J. Paul Getty Museum
The Getty Center's summer-popular Saturdays Off the 405 open on May 18 with a set from electro-nice act Quadron.
It's hard to alight upon the best thing about Saturdays Off the 405. The summertime music series at The Getty Center will get rolling on Saturday, May 18, and we're scratching our heads trying to decide what we like the most about it.
Is it that it is free? That's pretty solidly in the "best thing" column.
Is it that bands you'd expect to see in a pricier setting are swinging by to swing their thing, gratis? Yep, the bigger names are impressive.
Is that you're at The Getty, on the big hill, around sunset, so you're soaking in all of those soft pink LA summertime vistas? You'd have to have a hard heart not to love that.
Is it the 20-minute gallery talks designed just for these music-filled nights, the little tours that give you a dash of art ahead of the show? Anyone who doesn't want to know more about art should probably do some soul-searching.
Or is it the Getty-tinis, the museum's signature cocktail? Probably. If you order a Getty-tini, and don't smile while ordering it, some more soul-searching is probably in order.
Saturdays off the 405 are pretty dang grand, in short. More acts like Robert DeLong and Pickwick are ahead. A cash bar and ways to buy snacks are also folded into the good-vibe-y nights.
Getty Center, we raise a Getty-tini in your direction for keeping those vibes a-flowin'. And, moreover, creating an event that's so good that it is hard to land on the best thing about it.