10 Tons of Fireworks Seized in San Bernardino County
Taskforce targets illegal stashes ahead of the Fourth of July holiday weekend.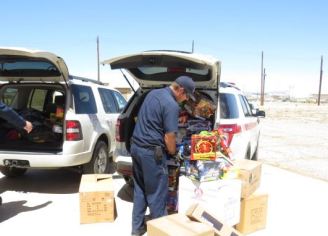 About 10 tons of illegal fireworks were seized in San Bernardino County during a two-weekend crackdown ahead of the Fourth of July weekend. Photo courtesy San Bernardino County Fire Department.
Investigators seized roughly 10 tons of fireworks during two weekend seizures in San Bernardino County aimed at taking illegal firecrackers off the streets ahead of the Fourth of July holiday.
Officers with a multi-agency taskforce issued 101 tickets totalling $126,250 in fines and arrested three people during sweeps at the agricultural check station on the 15 Freeway.
The seizure is the latest in a string of crackdowns on fireworks across the Southland ahead of the holiday.
Two weeks ago, Orange County officials seized 500 pounds of fireworks in Newport after discovering a man trying to sell them out of a truck parked behind a liquor store.
At a Pico Rivera warehouse in June, officers uncovered 12 tons of the contraband, dangerously close to a nearby mobile home park.
Some cities are taking added precautions for the holiday weekend. Garden Grove will close parks early July 4 to discourage firework use.