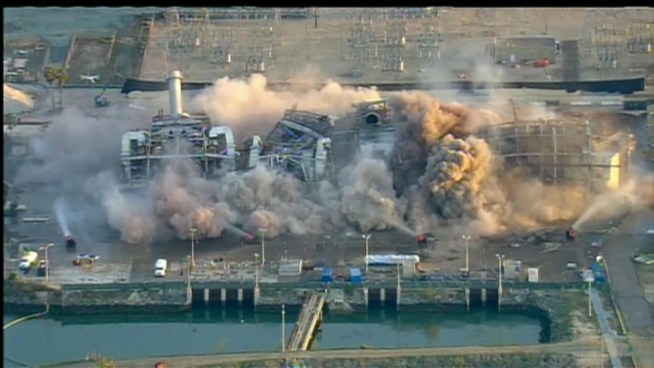 Read article.
Watch aftermath video
" />
Watch the implosion of the Chula Vista power plant on Saturday Feb. 2, 2013. Read article. Watch aftermath video
The defunct South Bay Power Plant in Chula Vista was demolished by a series of blasts early Saturday.
Thousands of people lined the waterfront in the South Bay to watch the defunct power plant disappear from the skyline.
The 556-acre land-use plan will add parks, open space and habitat protection in place power plant. The four phases of the construction plan will spread over 24 years.
The implosion went off just a few minutes after the scheduled 7 a.m. implosion.
Winds carried the smoke and debris west over the bay and away from the community of Chula VIsta.
Explosives were planted along the base of the plant. Once the smoke cleared, crowds could still see the top of one of the plant's smokestacks.