5 Freeway Reopens Along the Grapevine After Closure For Ice, Snow
California Highway Patrol escorts were helping motorists maneuver the roadway as it reopened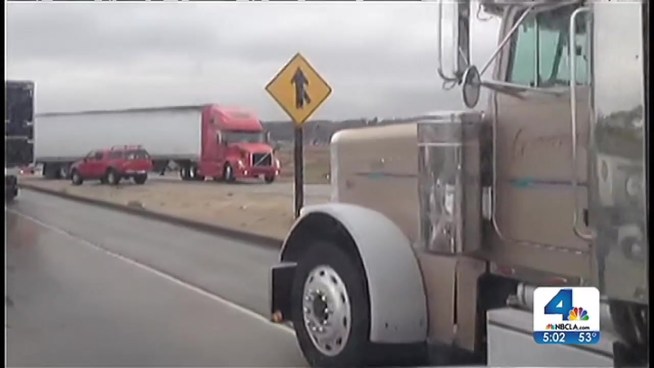 Traffic finally began to clear after snow and ice prompted an hours-long closure of a section of the 5 Freeway along the Grapevine. The situation worsened when a semi truck driver drove against traffic and pulled to the side of the road. Jane Yamamoto reports for the NBC4 News at 5 p.m. on Saturday, Dec. 7, 2013.
The 5 Freeway along the Grapevine has reopened after an hours-long closure due to snowy conditions, according to Caltrans officials.
(Click here to view photos of extreme weather across the nation)
The freeway closed just before 10 a.m., officials said. Traffic was diverted at Parker Road in Los Angeles County until reopening about 1:30 p.m., according to Caltrans.'
California Highway Patrol officials were escorting vehicles along the roads at slow speeds.
Up to 7 inches of snow was expected in areas above 1,500 feet, according to the National Weather Service, with heavier snowfall beginning Saturday morning.
Gusts up to 50 miles per hour were expected through mountain passes around the Grapevine, weather officials said.